Click on these links to go to other pages
OCTOBER UPDATE
Early in the building phase of their new home the owners' grounds were planted with a variety of trees to attract various species of wildlife – a mix of deciduous and evergreen, including hardwoods such as hazel, horse chestnut and sweet chestnut. That early tree planting has paid dividends after more than 20 years.
During the summer there were a couple of brief sightings of what looked like a red squirrel – not previously seen at Km. On October 7th there was no doubt, as your web-correspondent was treated to the sight of a bushy-tailed red squirrel racing between clumps of hazel bushes, gathering nuts and secreting them around the grounds. Keen nature-watchers were immediately alerted, to be captivated by its energy and industry as it spent a couple of hours, morning and afternoon, establishing its winter stores.
OCTOBER
Though spring is traditionally the best time for observing wildlife, autumn's mild weather and clear skies provide numerous chance encounters for the keen photographer:
An elegant golden eagle soars over Carn Cas nan Gabhar.

A covey of red-legged partridge (escapees from a neighbouring shoot) find refuge in the pony fields at the Old Croft near Loch Morie.

The hills echo with the roaring of red stags, but this stag seems more interested in grazing close to home, rather than taking part in the rut.
Photo: H Stefankova
Salmon fishing continues till the end of this month.
SEPTEMBER
Early morning mist around Loch Morie creates a tranquil environment for the keen fisherman to enjoy the final weeks of brown trout fishing. [Season ends 6th October]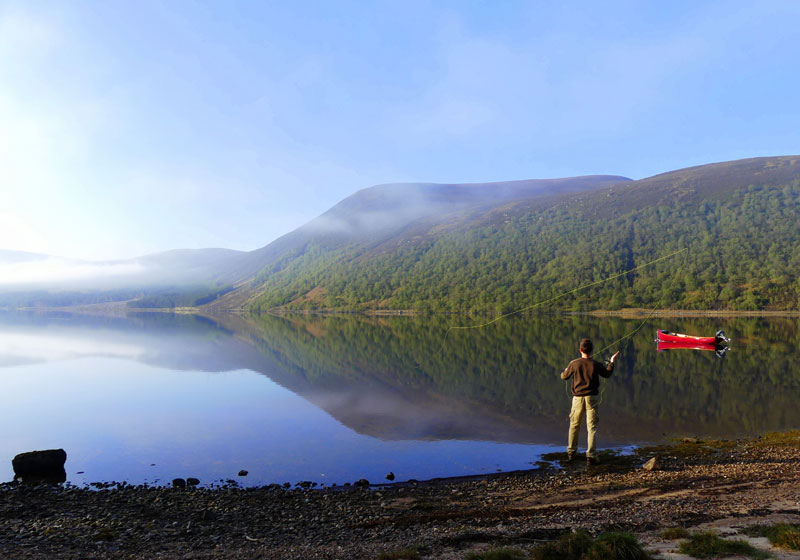 Photo: H Stefankova
Weather
Click on the links below to get an indication of the weather for the next four days.
Bear in mind that the accommodation is at the heart of Kildermorie Estate, in a glen surrounded by protective hills, so has its own microclimate which may afford better weather than forecast.
For Kildermorie Estate click HERE
For Baledigle Estate click HERE
For Creagan Breaca click HERE